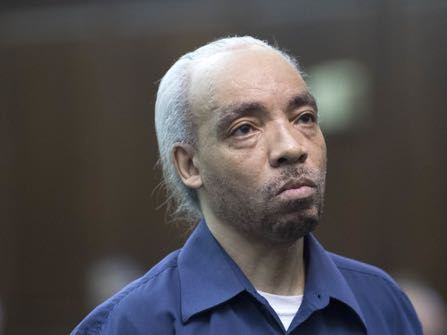 A New York prosecutor said Thursday that a founding member of GrandMaster Flash and The Furious Five stabbed a homeless man to death in Manhattan after he became enraged because he thought the man believed he was gay and was hitting on him and he feared he would be robbed.

Rapper Kidd Creole — whose real name is Nathaniel Glover — was returned to jail without bail by Judge Phyllis Chu on Thursday after an initial appearance in a Manhattan criminal court on a second-degree murder charge. Assistant District Attorney Mark Dahl said Glover, 57, a lyricist with the pioneering group, gave a detailed account of the street encounter in midtown shortly before midnight Tuesday that Dahl described to the judge, saying he wanted to demonstrate "the strength of the case."

Dahl said Glover was heading to his job at a building where he did security and maintenance when he encountered John Jolly, who asked him: "What's up?" Dahl said Glover told him after his arrest that he thought Jolly was hitting on him and thought he was gay "and that infuriated him." Dahl said the two men were a foot apart when Glover reached into his left sleeve and pulled out a steak knife that had been tied to his arm with a rubber band, leaving Jolly with two stab wounds to the chest.
Glover, meanwhile, "went to work" immediately after the stabbing and washed blood off his hands and the knife in a bathroom sink at his workplace before deciding to go home after about 15 minutes. He said Glover told him he tossed the knife into a sewer grate in the Bronx.

GrandMaster Flash and The Furious Five is best known for their 1982 rap song, "The Message." The group formed in the late 1970's in the Bronx. The group became the first rap act to be inducted into the Rock and Roll Hall of Fame in 2007.