---
WORK WITH THE BEST AND NOT THE REST!

The premier event planning, artist agency and artist management firm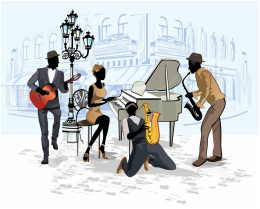 TAAP Entertainment began their entertainment journey in the late 90's
after company owners attended a Gamble & Huff, Music Seminar in
Philadelphia, PA. In the early 2000's TAAP Ltd Inc. was formed and the company began
booking DJ's, bands and singing groups for local block parties and tri-state area events.
Shortly thereafter a management opportunity with a group that was integral part
of Philadelphia International Records (TSOP) was afforded.

Through artist management and touring opportunities, TAAP Entertainment began building relationships throughout national and local music circles. A keen interest to learn multiple aspects of the entertainment business by "young-ins" (as they were affectionately called) was recognized and embraced by many industry lifers. With
hard work and

a commitment to excellence,
our
company has evolved into a full service event planning
, artist agency and artist management firm. Over many years,
TAAP Entertainment has established an impeccable reputation with municipalities, corporate entities, national, tribute and local artists as well other amazing talents in the entertainment industry.

​
TAAP Entertainment
provides exceptional client services for municipalities, casinos, corporations, colleges, universities, concert promoters and all
organizations in need of an event planning company or top-caliber artists, singing group or band for
their special events and private celebrations. In addition, solo performers, groups or bands in need of an artist agency or artist management firm are welcomed to inquire.
Available Services:
- Event Planning Company
- Artist Agency
- Artist Management
- DJ Service
- Concert Equipment
- Lighting Equipment
- Catering
- Security
​Experience our commitment to excellence!
TAAP Entertainment is the only choice or all your entertainment needs.
---